EgyGamer.com is a specialized company in the video games field and everything related to it. They offer a variety of Xbox, Playstation games through their website. The company founded in 2008 and then quickly become one of the largest video game providers in Egypt.
Results Timeline - 2 months
Thanks for taking time and reading this case study we prepared for you.
I want to start with some questions before we go into detail steps about SEO and its benefits.
The majority of people face issues with not getting quality traffic on their website; They are unable to capitalize visitors into customers. Are you one of them? If yes, then this case study will be more interesting for you.
SEO is useless if you are not converting traffic into $$$. Do you agree?
If Yes, Then let's start how we have achieved a 70% success rate with our client within just two months.
On 20th July, We have got an email from Mr Kasem (founder of Egygamer.com) to facilitate and create a powerful SEO strategy for their ecommerce website.
After our initial process includes identifying opportunities, analysis of current keywords, discover new keywords, website health check and speed optimization check.
We offered 20 keywords which can help Mr Kasem and his company to get relevant traffic + increase sales.
As we didn't have a prior connection with our client or nobody recommends them to us. We understand that it's always a risk involve whenever people hire a new company to work.
Even myself 🙂 
But, Here you need to tell a whole technical and potential points to the client and lay down prints. (Keep your conversation very realistic and friendly and don't over-commit things)
Artimization got a contract from Egygamer on 25th July 2019 to start an SEO campaign for two months initially.
An online gaming store picked up 10 keywords out of 20 keywords which we have provided them to select. They agreed with our gold package to test the competency of our team before going further.
In this Case Study, You will find everything we have done to generate results for an online eCommerce video store. We tried to provide maximum details for our readers to learn and gain knowledge 🙂

Powerful SEO Results:
Now let's take a look at what SEO was able to do for Mr. Kasem and his online video game website.:
From 25th July to 25 September 2019 we generated:
30,095 Sessions
14,832 Users (56% of them are New Users)
4.98% Bounce Rate
560 Total Sales Transactions
$ 48,009 Sales
Yes, That's True!
On the above picture, it's pretty visible that they are having very few sessions. Even less than 6,000 sessions on an average before they hire our company for SEO services.
These analyses and figures tracked from Google analytics however, Kasem realized more sales through on-site web purchases.
The major factor to achieve these figures and stats so fast is because of our client website age and their history. They have been working for a long time but eventually not focused on SEO and its right technique.
Our team has created a wonderful strategy for keywords, on-page and off-page SEO setup, website changes, and restructuring.

22578 Purchases Made By New Users In Just 2 Months
The trick works here, Within just two minutes our client recieved total purchases from their website were 31,216 (Picture can be seen below taken from Google Analytics)
This means We brought a significant difference in sales as well as discover a whole new paradigm for our client within 60 days.
This process includes good website navigation + using high-quality product images + off-page and On-page SEO.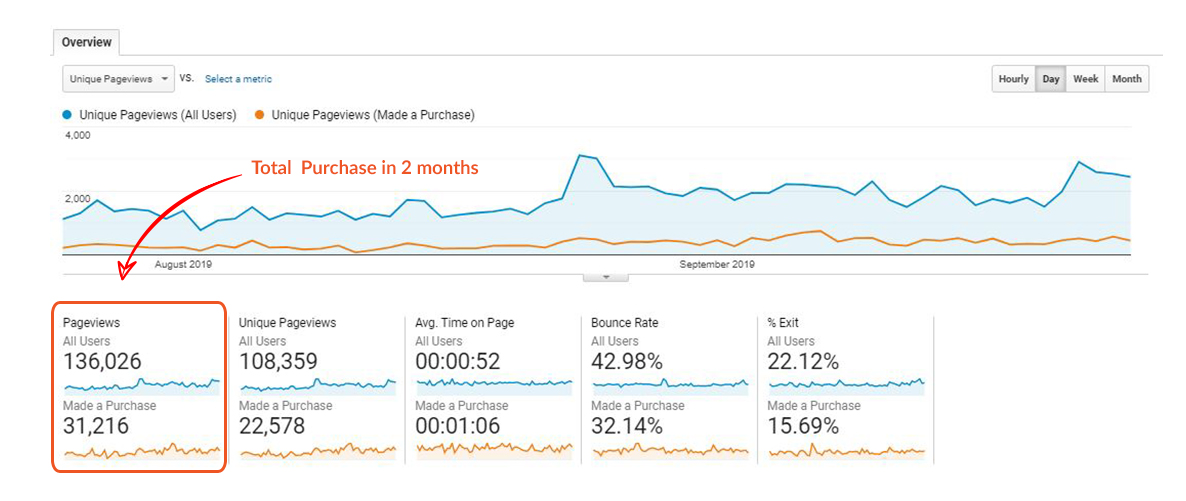 Spike In Organic Searches Reach to 51.3%:
We worked to increase the organic searches for our client rather than referral traffic from social media or third-party websites. As it very knows in the digital world that some companies do bad links or generate fake traffic to show traffic on the website (Just to keep the client engage with them)
Here we only work with organic SEO and build long-lasting relations with our client by providing them quality traffic through organic searches.
Our client has seen a tremendous spike in organic searches for their website within 2 months time period.

How We helped Our Client to Get 560 Total Transactions in 2 Months:
It's because to target the right keyword in the right timings. Yes! As one of their games was about to launch and our client started to take PRE-BOOKING orders.
The video was already popular and has searched so we have decided to rank the same keyword on google Egypt to attract potential customers for our client.
The total amount of sales was remarkable and can be seen in a picture below.

Revenue Matters:
Being a global marketing company, Our aim is not just to make lots of sales and look for new clients all the time. Rather, We strive to help our clients to generate revenue from our services.
In this case study, We have shown you step by step how we have achieved numbers for our client within 2 months of aggressive working. Everyone and even you must be happy when you open website analytics and see that there are good numbers of product sales, new visitors, organic search, etc.
This all comes with experience and hiring the right SEO marketing company that knows how to put your business in front of your potential customers.

In Summary
SEO is the best service to apply on your website to get rankings and target potential customers.
SEO is an organic marketing technique while SEM/PPC is paid to advertise which is expensive.
SEO usually takes 3 to 6 months to achieve good traffic. It also depends on competition and keyword difficulty.
SEO is best for long term business growth and continuous income.
Artimization produces the best SEO results for Small businesses.
At Artimization, we understood the significance of SEO for Egygamer.com and knew what keywords and strategies to apply. What is what makes us a great company today!

Do you have any Question?
Artimization team believes in entertaining our visitors and is ready to answer your questions.
Type down your thoughts and get perfect possible solutions to your questions.