A strong Free Web Portfolio is essential for impressing potential clients and landing future gigs to showing off your design skills, range, and interests that will be a backbone in your search for clients.
The good news is that- Even if you are still on your way to success and haven't landed on paid work yet you will be facing no problem putting a
Whether you're a UX designer, freelance writer, or photographer.
A digital portfolio allows you to cultivate and display your greatest work;
Also, if you don't have much past industry experience, a portfolio can help you demonstrate your skills and talent through fake projects.
Creating a solid digital portfolio, on the other hand, can be a difficult undertaking, especially if you're not sure which website to utilize.
To help you present your greatest work, we've compiled a list of the nine top portfolio websites for designers, freelancers, and photographers.
As a UX/UI designer, having a competitive and responsive online portfolio website can be crucial in showcasing your design skills and attracting the attention of more employers, recruiters, and clients.
However, there are a plethora of online portfolio websites on the market that claim to assist in the creation of unique and professional online portfolios, and you're not sure which one would be the best choice?
We have put together some of the best and the most popular free portfolio websites to help narrow down your search to make it ll the more easy for you.
Read Also : Stunning Web Design Trends That Play a Vital Role to the Success of Your Website
Behance, as one of the most widely-used free online portfolio websites in the designer communities, not only attracts millions of UX/UI designers, artists, and photographers from all over the world to continuously upload their excellent design works for building cool personal design portfolios each year, but also appeals to many interviewers, recruiters, and hiring managers to browse these designer portfolios.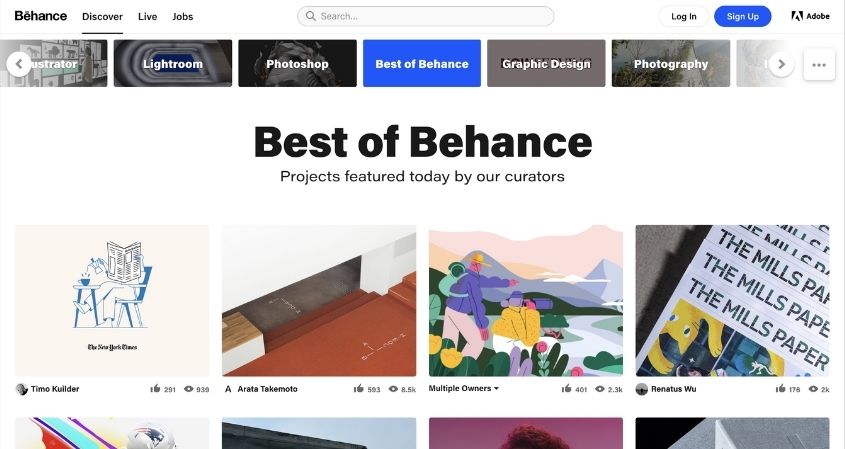 In this regard, Behance is unquestionably one of the must-have online portfolio websites for showcasing your work and landing a solid UX/UI design job on the internet.
What you will get:
Freely sign up and build your own profile with personal information such as contact and social media information.
Easily upload and change your UX/UI design cases/photos using its comprehensive file editing features. Multiple owners can be added to a collaborative design project for free.
Interact with site visitors quickly and receive feedback by reading their comments.
Search and discover the most recent UX/UI designs for inspiration.
As an all-in-one portfolio site, it also allows you to look for and explore good UX/UI design jobs listed by reputable companies or employers across the globe.
In summary, Behance is a free online portfolio website that allows designers to display various design works in detail.
It is frequently used by designers to promote the latest design works/concepts, seek feedback and suggestions from other designers/clients, and share free design kits.
Of course, it'll be a great spot for you to build a one-of-a-kind portfolio site.
Many creatives and brands all around the world rely on WordPress to construct their websites.

To create a gorgeous WordPress portfolio, you don't need to be a coding expert. You can choose from a variety of free and paid templates to get started exhibiting your work.
With WordPress, you can create a blog, publish your work, and customize the look of your portfolio.
Dribbble, a free online portfolio website comparable to Behance, is another popular free online portfolio website among UX/UI designers.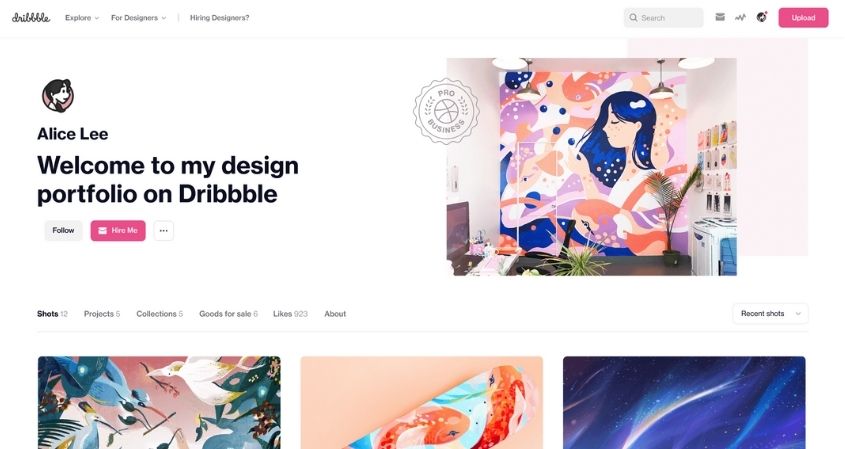 Create a free account to share small screenshots of your design processes, design drafts, interactive prototypes, app design concepts, and other designs.
Dribbble is also a good platform for designers to display new design works, enhance design abilities, share and communicate design ideas as an internet site specifically designed for designers to present different design projects in the beginning.
Coroflot is another good global online portfolio platform for UX/UI designers, albeit it lacks the power and popularity of Behance and Dribbble. Every month, Coroflot publishes over 2 million photographs for over 150,000 creatives from various designers, painters, and photographers, making it one of the most professional online portfolio sites.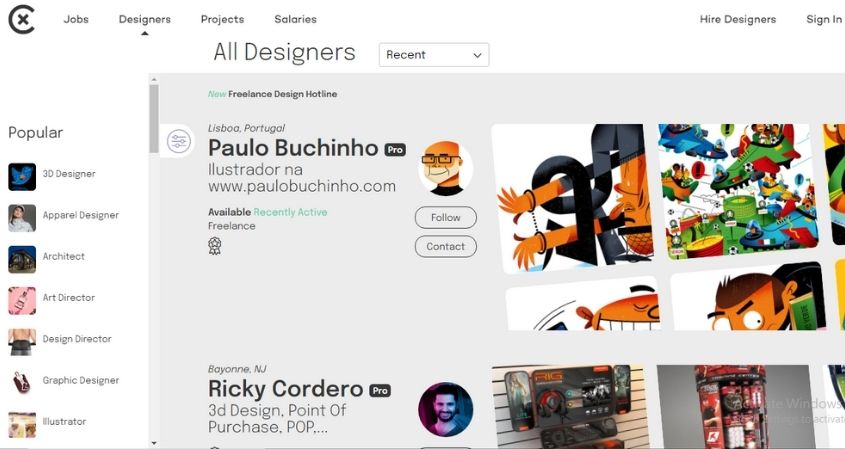 If you're looking for decent UX/UI design jobs on the web, its well-integrated job board (which is "the largest and most active platform exclusively geared for the hiring needs of organizations") is also worth checking out.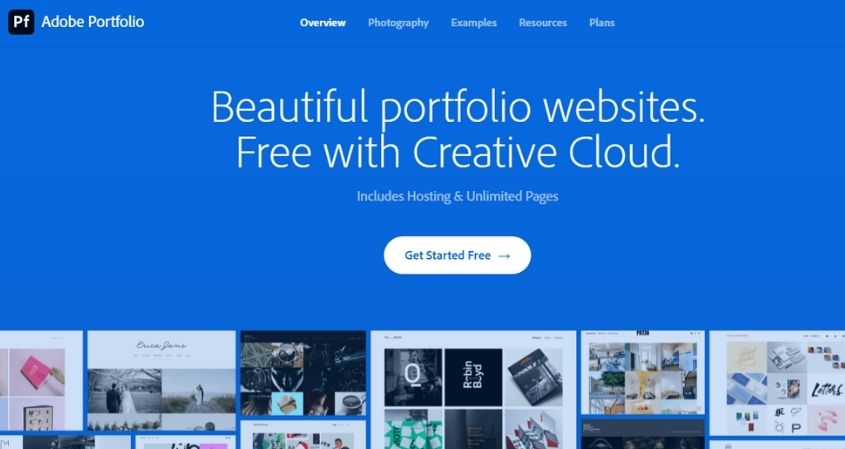 Adobe Portfolio is a free tool included in paying Adobe Creative Cloud subscriptions that allows designers to easily construct elegant, high-quality personal portfolio sites. Users can also sign up for a complimentary Creative Cloud subscription. Adobe Portfolio, which is one of Behance's sponsors, allows designers to sync design revisions to Behance for free.
What you'll get:
Choose/customize a layout to present your greatest UX/UI design work in a more attractive and innovative manner.
Easily upload design projects to Behance.
Easily and swiftly sync the latest Adobe Portfolio design works to Behance.
If you need it, you can get free access to the whole Typekit font library.
Carbonmade is an easy-to-use and hassle-free online portfolio platform with over 15 million photographs and 1 million portfolios. It provides gorgeous visual-based themes as well as one-of-a-kind domain name services.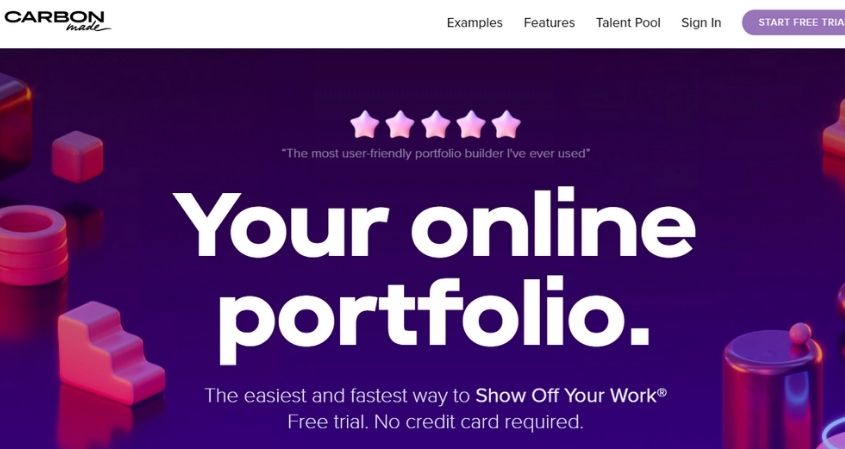 Carbonmade is also much better for UX/UI designers who want to meet more great designers, discuss design works, and communicate with them there, as it was designed to make life easier for designer peers.
It also stands out for its simple and user-friendly UI.
What you can expect to receive:
Available services include customer support and project archiving.
Allows you to upload video and audio files in SD format.
Obtain a number of lovely portfolio themes.
So, if you want to make an online portfolio quickly and easily, this easy and fast Carbonmade is an excellent option.
Cargo (Offer free account)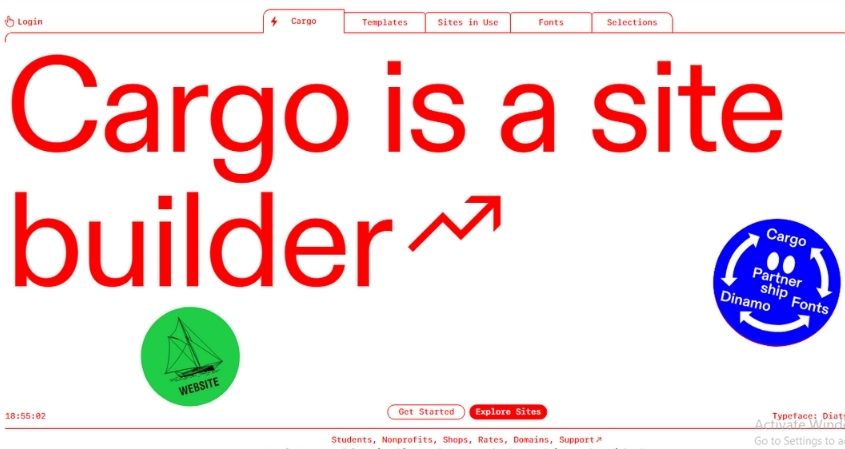 Cargo is also a simple and effective online portfolio platform that allows designers to construct self-contained personal websites with their own URLs and a series of pages. Unlike most free online portfolio services, which make it easy for designers to sign up and create an account, Cargo requires that designers be invited to join. It's very popular among UX/UI designers because it provides a wide range of well-designed portfolio templates.
What you can expect to receive:
Its free basic service includes 12 projects and three pages.
Provide designers with 40 portfolio design templates.
Allow individuals to create their own online portfolio sites using their own domain names.
Get a variety of typeface from places like Webtype, Type Network, and Google Fonts, among others.
In a nutshell, Cargo is better suited to designers who wish to develop their own portfolios more quickly and effectively by choosing from a variety of well-designed templates.
Crevado (Offer free account)
Crevado is also a free and simple online portfolio builder that allows designers to construct online portfolio sites and show off their UX/UI design work. It enables users to personalize their websites and submit design materials in a variety of formats, including photos, videos, GIF graphics, PDF files, and more.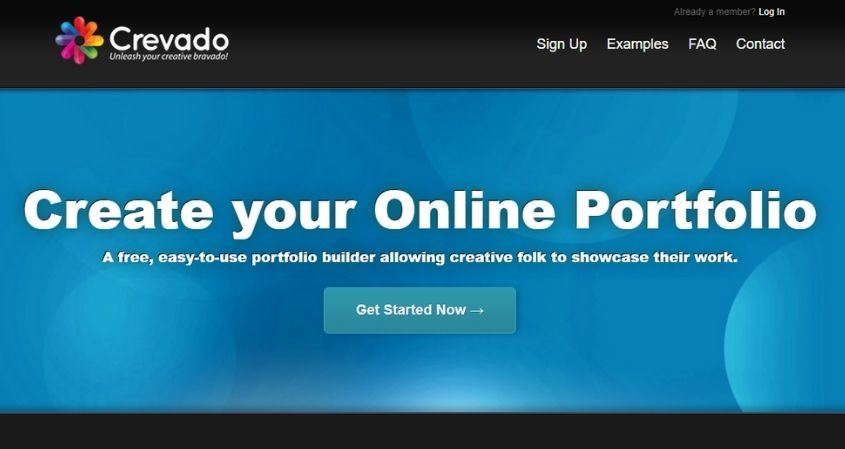 Furthermore, as a responsive portfolio site, it may be seen on a desktop computer, laptop, tablet, or mobile phone, among other devices. It is also very easy for designers to sell their design works online because it offers easy and fast online payment through PayPal and Fotomoto.
What you'll get:
A basic account with 30 photos and 5 galleries is free, and Google Analytics reporting is available.
Offer a 14-day free trial plan for designers to test if it's worth paying for.
Support for nine basic themes is included.
If you have a premium account, you can sell your design works using PayPal and Fotomoto.
So, if you're a freelance UX/UI designer looking to sell your portfolio online, you can give it a shot.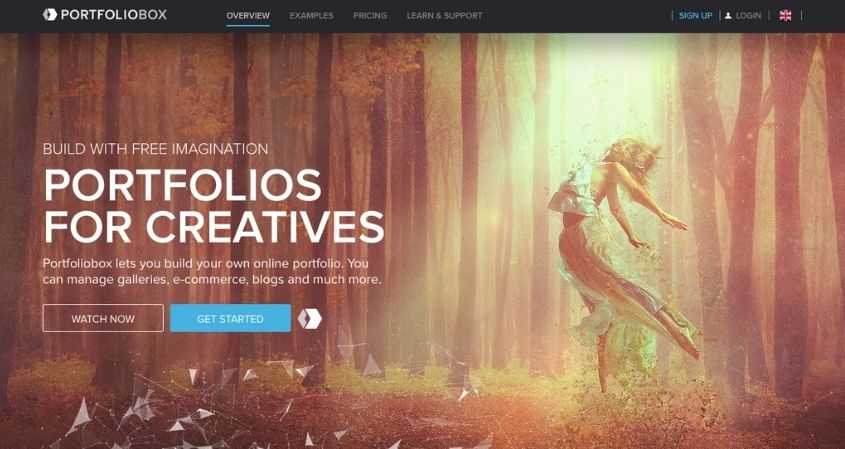 PortfolioBox is a simple online portfolio for designers that allows them to create a completely unique portfolio website by using any style on any page. Users can also manage galleries, e-commerce, blogs, and a variety of other services. Furthermore, it provides a free domain name for your portfolio site.
What you can expect to receive:
Provide a wide range of language services, such as English, Chinese, Japanese, and French, among others.
Offers two types of accounts: free and premium, both of which must be paid for.
Users with a free account can host up to 10 projects, 30 pictures, and 10 pages.
If you use a free account, all pro-templates will be unlocked for free for 30 days. Provide a free domain name registration service for your website.
As a result, if you plan to construct your portfolio sites without using any common templates, this site would be ideal.
Portfoliopen is an easy-to-use online portfolio site that allows designers to create a professional-looking portfolio in minutes without having to know how to code.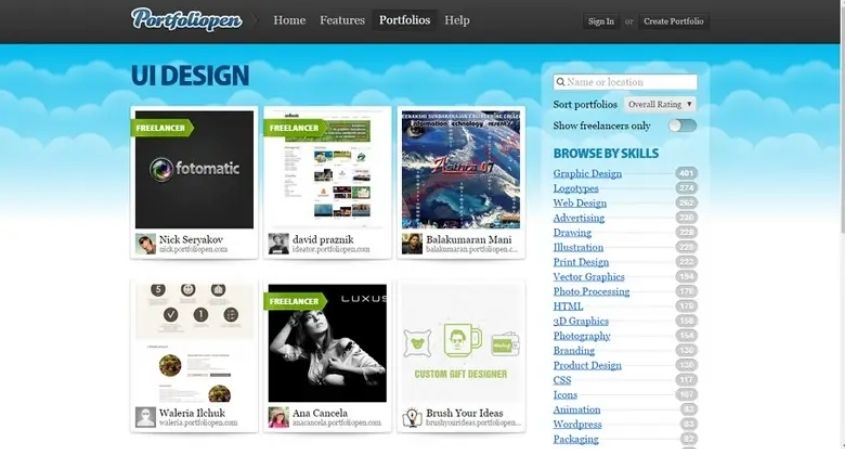 It allows you to establish a professional design portfolio site by selecting well-designed themes.
You can also freely upload your design works and photographs as you desire with up to 3GB of online storage space.
You can also get rapid feedback and suggestions by reading the comments left by other site visitors.
What you can expect to receive:
Its free account allows designers to upload up to 10 design works for free and includes 10 MB of free online storage.
Encourage site visitors to rate and remark.
A free listing of the top-rated design works and portfolios may be found on the site's Home page.
Overall, Portfoliopen may easily match your needs if you desire extra storage space for freely uploading more design examples, files, and photographs.
Conclusion
The top 10 finest free online portfolio websites for creating flawless UX/UI portfolios on the web are listed above.
You should also use and develop two, three, or more portfolio sites with distinct styles and characteristics together to boost your chances of being recognized by potential clients/recruiters.
Additionally, remember to include these portfolio links on your resume so that interviewers, recruiters, and hiring managers can readily access and learn about your UX/UI design abilities.
I hope you find the best online portfolio platform for you to construct a stunning and unique UX/UI design portfolio.
Farah Khan
Farah is an ambitious content manager and is dedicated in creating, improving and maintaining content to achieve our business goals at Artimization.