Do you have a small business with a focus on driving in customers from nearby areas? If yes, you should consider investing in local SEO.
Local SEO is an SEO strategy that focuses on making your business more visible in local search results on Google. Businesses that have physical stores or are targeting a particular geographical location can particularly benefit from local SEO, including Google's local SEO 3-pack.
If you're wondering what this SEO strategy is all about and how you can rank for it, you've come to the right place. This article is your ultimate guide to understanding Google's Local 3-Pack and ranking your business for it.
What is Local SEO 3-Pack?
What's the first thing you see on Google when you search for for terms using keywords like "near me" or "near [Location]?"
A list of three businesses. That's precisely what local SEO 3-pack is all about.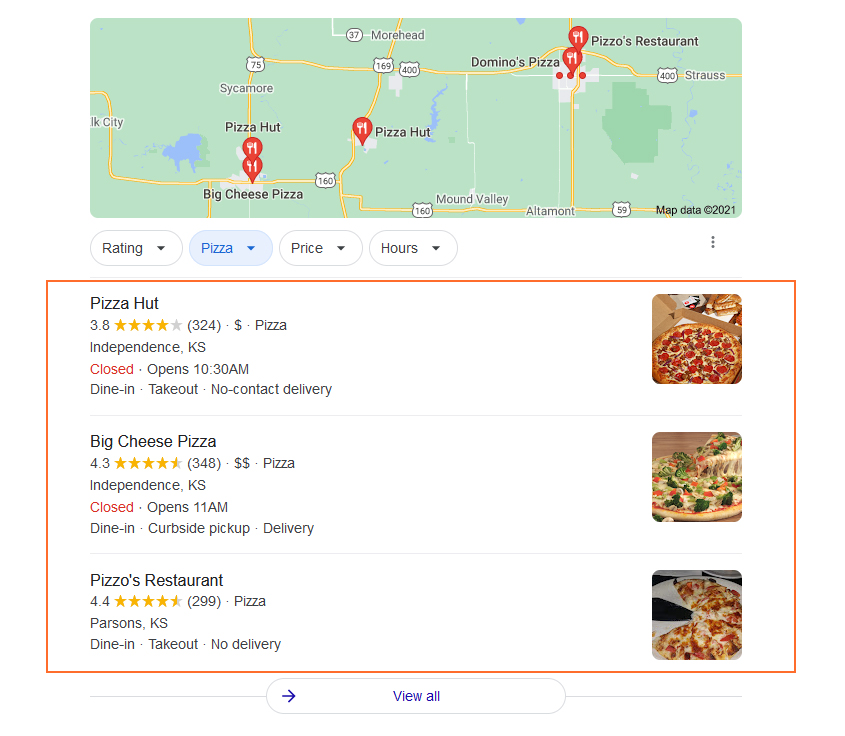 Everytime a customer searches for a local business on Google using the above mentioned keywords, Google generates a list of results that match the query. Included in these results are three Google My Business listings that have made the best use of Google's Local 3-Pack strategy.
Previously, this list included 5 to 7 businesses. This meant that there was a greater chance for local businesses to be featured in the search results. However, the competition has gotten tougher ever since Google narrowed it down to 3 businesses.
Besides this, Google has also changed the listing format. Previously, you could see the businesses' contact information in the 3-pack listing. But now, the preview includes an address only.
Sounds bad, right? It's actually a blessing in disguise.
You see, if a customers wants more information about a business, they'll have to click on the listing. This action will redirect them to a page highlighting the business they clicked on along with various other businesses.
So, even if your business doesn't make it to the search results, it can still be featured on this page. This is why it's important to optimize your Google My Business listing.
If you're wondering how to do that, we've got some tips for you.
Rank in The Local SEO 3-Pack with These Tips
1. Make sure Google My Business page is up-to-date
If a user looks for your business, it means they want to obtain more information about it. This important factor in deciding whether your business is the right choice for them, and an outdated, or incomplete Google My Business page will definitely not work in your favour.
To increase your chances of ranking in Google's Local 3-Pack, make sure your Google page has all the information a customer would require i.e. your address, business hours, contact information and so on.
In case your hours of operation have changed due to COVID-19 lockdown, make sure that reflects on your page. Leads will see phrases such as "opens soon" or "closing soon" when you add timings on your page.
2. See if you're in the top 20
Once your Google My Business listing is up-to-date, you'll have a better idea of where you stand. And if you're not in the top 20, then you'll probably have to work a bit harder.
Being in the top 20 list gives businesses a headstart and increases your chances of ranking in Local 3-Pack. The top 20 list order may change based on the user's location, but the same businesses are listed in it everytime.
A complete Google listing helps in getting to the top 2, especially if you're in a low-competition industry, but if you want to make it to the top 3, then you'll have to do more than that.
3. Get reviews on your Google page
Did you know that almost 84% of consumers consider online reviews as important as personal recommendations? That's right.
There's no doubt that reviews matter a lot to consumers in every niche. They can help drive organic traffic for local businesses, and that's why it's important to have reviews on your Google page like your other social media pages.
An good review from your previous customers can boost your visibility on Google, make your business look more credible, and generate more clicks for your website. So, encourage your satisfied customers to leave reviews on your Google page.
4. Build a strong social media presence
There's no doubt that social media is an excellent marketing tool for all types of businesses.
It gives you an opportunity to connect and build stronger relationships with your local customers – something that can help earn customer loyalty and also rank your business in Google's Local 3-Pack.
You're probably wondering how.
Through social media, you can encourage people to visit your website. This will boost your website traffic, and as a result, your organic and Google ranking will improve.
You can also use social media pages to garner positive reviews, which will help your business earn a good reputation amongst local customers and work as word-of-mouth marketing.
5. Boost visibility through backlinks and locally relevant links
Last but not least, you can also improve your site's ranking through backlinks. In case you didn't know, link building is an integral part of the SEO process.
As a local business targeting nearby customers, you should focus on locally-relevant links.
There are many ways to earn these links, such as sponsoring a community event, inviting local journalists to your store or restaurant, and so on. You can choose any method you deem fit, but the important part is getting your business out there.
Besides locally-relevant links, try to earn backlinks as well. They help build credibility and authority, which is an important factor for getting your business ranked on Google, even if your focus isn't on the Local SEO 3-Pack.
Optimize Your Google Listing with Artimization
Local SEO 3-Pack isn't a one-man job. To implement this strategy successfully and get your business on the top 3, you need an experienced digital marketing agency like Artimization.
We have a team of experts who can help boost your visibility and earn valuable leads that you can easily convert into customers.
Interested in finding out more? Give us a call today (617) 275-4776.
Farah Khan
Farah is an ambitious content manager and is dedicated in creating, improving and maintaining content to achieve our business goals at Artimization.