Paid advertising on Instagram is an effective marketing technique that complements what firms can do in their Feeds, Stories, and Explore tabs.
Instagram advertisements, like Facebook ads, offer superior targeting and versatility, making them suitable for almost any business. You may choose to promote on Instagram if this visual medium is popular among your target demographic.
What is Instagram advertising and how do they work?
Ads on Instagram can include up to 18 call-to-action button options, link to your website, and provide users the option to download apps or shop online stores, depending on your campaign goal.
To promote on Instagram, you don't even need an Instagram account. Because Facebook is the company's parent, all you need is a Facebook Business Page.
However, having an Instagram account will allow you to acquaint yourself with content that will resonate with your target audience and will complement and boost your organic Instagram marketing efforts.
Use Facebook's Ads Manager to create Instagram Ads campaigns and ad packages, where you can choose your budget, target audience, ad placements, and optimization settings.
Your ads will run within the time range, budget parameters, audience selection, and optimization goals you choose, much like Facebook Ads.
What makes Instagram marketing so valuable?
There are a number of advantages to paying for ad impressions on Instagram rather than running campaigns and promotions directly from your company's account.
Advanced Targeting
Instagram is the second most popular social media platform behind Facebook, with over 1 billion monthly users.
These platforms have a huge database of targeting data, and because Facebook owns Instagram, Instagram ads use the same demographic and geographic data as Facebook ads. This precise targeting is what makes Facebook Ads so effective, because you can be very specific when targeting different audiences.
You can reach the correct individuals in your prospecting and retargeting efforts whether you use Facebook's native audiences based on interests, behaviors, or other demographics, or your own custom audiences created with your Pixel or SDK, email lists, or other sources.
High Level of Engagement
Instagram is known for its high levels of organic and paid interaction. Images shared on Instagram generate 23% higher engagement than those shared on Facebook.
When it comes to organic interaction, marketers on Instagram claim that around 4% of their followers see their content, compared to Facebook's almost non-existent organic reach today.
While it's better to pay to play, it's still a good idea to use paid ads to grow your reach and visibility. While any type of visual material can perform well, marketers typically receive a 38 percent increase in engagement with video commercials.
Images and videos, as a visual platform, are more effective at driving engagement than other more text-based social sites.
External Links
Organic posts on Instagram do not yet allow clickable links. You can put a link in your caption or message, but the receiver will need to copy and paste it into their browser or go to the URL in your Instagram profile to see it.
Outside links can be included in Instagram advertising, allowing you to define a destination URL to your website or another external URL.
It's best to utilize your own domain to track website traffic from Instagram Ads because you'll have your Pixel installed there, but you might not have it on other websites.
Longer Videos
If you run advertising in these three ad locations, you can have up to 2 minutes of video content. Instagram Feed and Explore video can be up to 60 seconds long, while Stories are normally up to 15 seconds long. This allows you more chances to communicate your brand as well as the characteristics and benefits of your product or service through your products and/or services.
What are the prices of Instagram ads?
CPC on Instagram
Instagram's CPC in 2021 is expected to be between $0.40 and $0.70 across all measures. This covers not only link clicks, but also likes/reactions, comments, and shares, as well as all clicks that occur on an ad.
Instagram's CPC in 2021 for advertising with a destination URL ranges from $0.50 to $0.95.
CPE on Instagram
In 2021, Instagram's CPE will be between $0.01 and 0.05.
CPM on Instagram
In 2021, the average Instagram CPM for better-performing campaigns and ad packs will be between $2.50 and $3.50.
When it comes to CPMs, our studies show that Facebook outperforms Instagram by roughly 2x, while CPCs are nearly half as low on Facebook as they are on Instagram.
Costs of ads on Facebook vs. Instagram
While Facebook and Instagram both use the same Ads Manager, their advertising charges are different (see how much it costs to advertise on Facebook in 2021 here). Because Facebook has been around longer, has more data, and more ad places than its younger adopted sibling platform, we discover that Instagram is slightly more expensive in some cases than Facebook.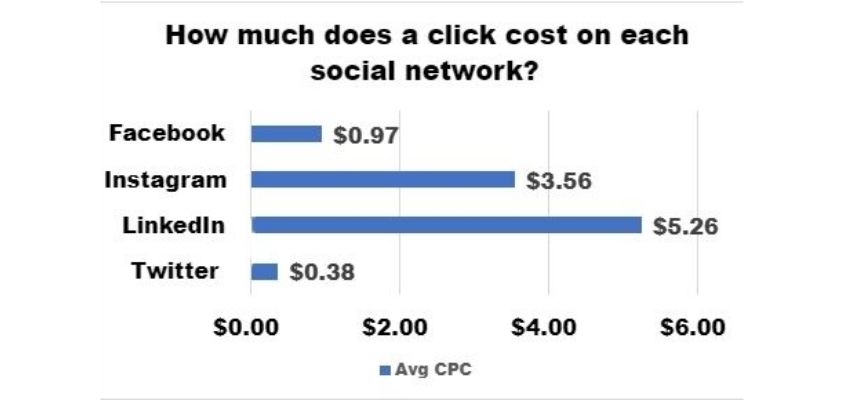 While this is true, don't let it stop you from learning more about Facebook's lucrative and powerful visual counterpart.
You may pay slightly more to utilize Instagram due to fewer ad places and higher competition for impression share, but you may find it to be much more cost-effective than the results you're receiving with Facebook.
Instagram ad pricing is influenced by a number of factors.
Instagram ad cost, like other platforms, is determined by a variety of factors.
The goal of the campaign
Depending on which campaign objectives you set and how they correspond to where your target audience is in the funnel, your advertising expenditures may automatically rise or fall.
For example, if you choose a brand awareness campaign as your goal, it will be less expensive than a goal further down the funnel with a higher value, such as conversions. Targeting a customer further down the funnel—who is more familiar with your brand and offerings and ready to open their wallet or do a higher-value action—is a lower-value activity compared to having a larger, colder audience see your ad to create brand recognition.
The size of the audience
Because there is less competition for a group of people, advertising to a larger audience is usually less expensive. As you reduce your audience, say by lowering geotargeting or age groups, you may notice a price increase as competition for those viewers rises. Because retargeting audiences are often smaller, retargeting efforts often have greater expenses.
Budget
Budget has an impact on Instagram ad expenses since if you have a modest budget, it may take longer to get out of the Learning Phase if you're starting a new campaign or ad set. Before the system learns and understands your campaign type, optimization goals, and how your audience connects with your advertisements, costs may be higher at first. Facebook and Instagram will reward you with decreased expenses over time if your advertising is well-received.
Click-through Rates
If your CTR is low, the system may assume there is a gap between your target audience and the message you're sending out in your ads, resulting in increased expenditures. CTR is a good indicator of whether or not your ads are resonating with your target demographic. Aim for a CTR of roughly 2% for a good CTR. Your charges should drop if you have a healthy CTR.
In 2021, use Instagram ads to your advantage.
Instagram is still growing, and the advertising opportunities are only becoming better. It isn't yet saturated, so we can expect more ad placements to come our way this year, hopefully, so that our budgets may stretch farther and achieve success for our businesses and clients.
Give Instagram Advertising a try to see how it stacks up against Facebook Ads and other ad networks you might be using. It might become a crucial element of your funnel by increasing brand awareness and engagement, or it could become a significant source of revenue.
Farah Khan
Farah is an ambitious content manager and is dedicated in creating, improving and maintaining content to achieve our business goals at Artimization.