Can you do SEO yourself? After reading this article below you will easily get the answer to this big question.
The good news is; you can most certainly do SEO yourself. Anyone who has the required skills and technical knowledge can do so.
But before you get started it is important for you to understand some SEO basics and what you might be dealing with.
When we talk about doing SEO for a whole new website, some entrepreneurs can easily be intimidated because there is a lot of misinformation about SEO out there in the industry.
Most of the times businesses do not have an experienced in-house SEO team to do so.
It takes effort and money to optimize a website for search engines. If you're short on time but have the funds, you may hire an agency or a consultant. Use these do-it-yourself strategies to improve your site's organic ranks if you're short on cash.
Today, we'll look at some simple things you can do to get your website's SEO off to a good start – even if you can't afford to employ an expert.
All education is self-education; it is a truth of life. Others can help you learn, but they can't teach you anything; they can only motivate you to learn for yourself. That means you'll have to take matters into your own hands if you want to study search engine optimization (SEO).
What is SEO? (Don't Worry, I'll keep it short)
Of course, you might have what is SEO a million times whenever you visit a website. I'll be keeping things short, we all know what SEO means.
What we don't know is about the different actions that we take on and off your site that will help your site show up on search engines.
These actions can be very simple like having a thorough research and incorporating certain keywords in to your content.
Even some more complex things that may require you to have a much technical knowledge like mapping keywords, building an XML sitemap so a search engine may get an idea about what pages you would like to rank on search engines and boosting link equity.
Here's how XML Sitemap looks: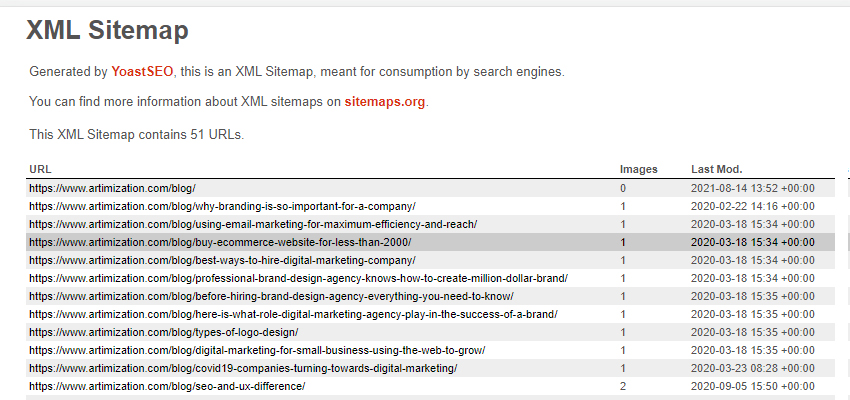 What does SEO involve?
SEO isn't a one-size-fits-all solution. To do it well, you'll need a lot of strategizing, planning, implementing and, yes, a lot of time.
If you're going to perform your own SEO, you need start with the basics, which includes understanding what SEO involves and what you need to focus on to start out.
For any successful SEO strategy, there are six key aspects to consider:
SEO research
Keyword research
On-site optimization
Produce and optimize site content
Off-site optimization
Ongoing analytics
Let's take a closer look at each of these aspects to see what they mean and why they're important.
SEO Research
Any good approach starts with research and implementing a good strategy, and SEO is no exception. You should conduct a thorough study before planning to do SEO on your own.
Not only conducting a keyword research is important but analyzing your competition and recent industry trends is also important as this is what makes you rank on search engines.
Master Keyword Research
A good SEO plan includes knowing what your target audience is searching for A thorough keyword research is done to:
Be familiar with what your target audience is searching about
Decide which keywords are most searched for and which ones to target
Estimate the demand of your products to reach out to your target audience
A keyword research is conducted when you need to decide what you need to research and analyze the popular search key phrases that majority of your target audience is using when they are looking for the product that they need online.
These keywords or key phrases then eventually help you plan what to include in your content that will help you rank and reach to your targeted audience.
There are various free keyword tools and many of the best keyword tools that are out there offer a demand score for each theme that you use.
For instance, Google keyword planner is a free tool that you can use to have your research. Even though you will need an active Google Ads campaign to gain access to the most useful data that you will need to know what to include in your content.
Here's how Google Keyword Planner looks: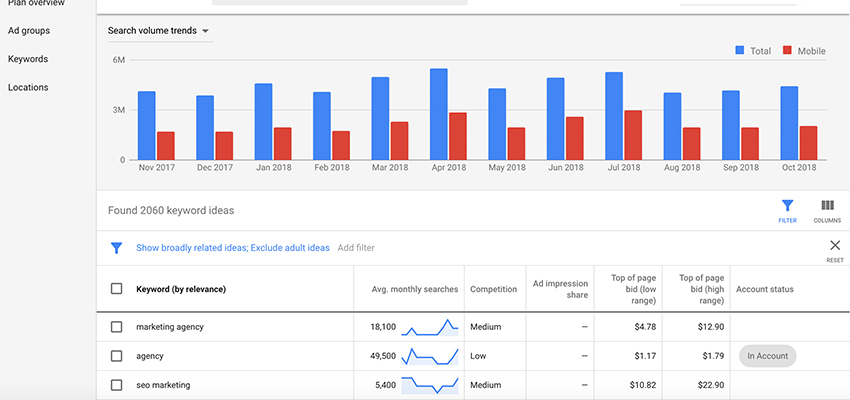 On Site Optimization:
On your own website, you can find some of the most crucial factors for search engine optimization. You may have heard a lot about link building (which we'll get to in a minute), but link building without strong on-site search optimization will be ineffective.
On each of your website's primary pages, including and especially the homepage, you should include the bare minimum on-site optimization features listed below.
One important thing to remember is that you don't need to stuff in a lot of keywords on your pages. Even though you might want to be convinced that it is going to help you rank your content on Google, but that is not the case.
When it comes to keyword optimization, the goal is to keep it a simple as possible.
Google has presently proposed a new policy where it has imposed an over-optimization penalty that specially targets those websites that have stuffed too many keywords onto one page with the intention to have it ranked.
It might be more appropriate to search four to five keywords or key phrases that can fit perfectly on each page on your website and optimize the following.
Meta Title:
The title tag on your website's pages informs search engines about the page's content.
It should be 60 characters or fewer and include your company or brand name as well as keywords that are particular to that page.
This tag is near the top of the HTML code for the page, between the <HEAD> and </HEAD> tags.
Here's how Meta Title looks like on Google: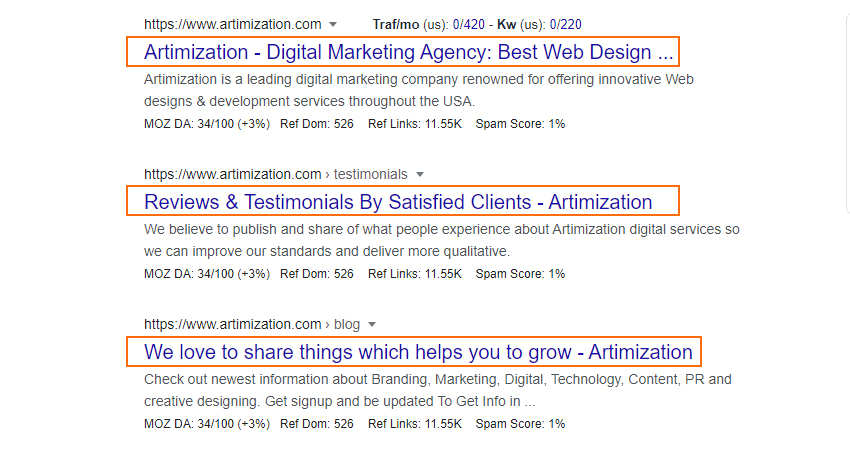 Meta description
The Meta description on your website's pages provides search engines with a little additional information about what the page is about.
The question of whether Meta descriptions can help with keyword rankings is still up for dispute. Regardless, because the Meta description does appear in search results, you should create it with a human audience in mind and incorporate the page's essential keywords.
Here's how Meta description looks like on Google: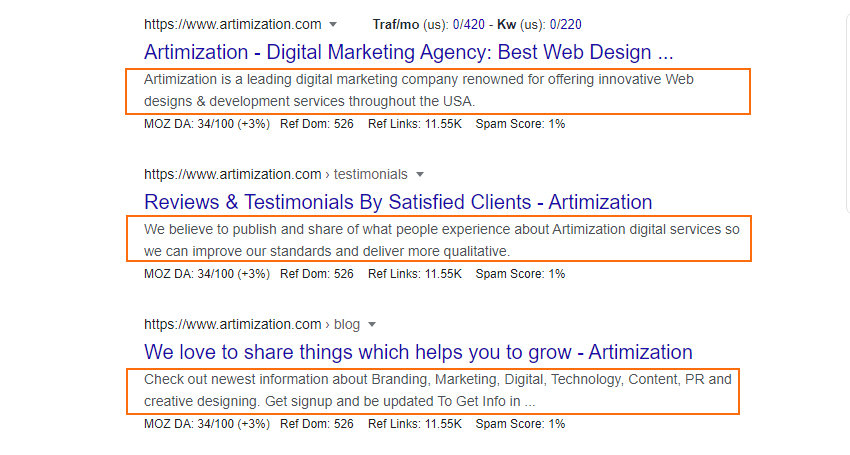 Produce & optimize site content
They say that 'content is king', and the most important aspect of your website which can help a search engine rank your site. The content on your website refers to consistently optimizing your blog and updating it on a regular basis
The key to having your site optimized is to create ongoing content that is specifically customized to your targeted audience. All you need to do is to just publish unique and easy to understand content regularly. But being consistent in creating your content is key.
Another thing that you need to keep in mind is that your content does not need to be only text.
Using explainer videos, Illustrations, pictures and How-to videos to explain how do use your products or services or any type of other content that helps your prospects understand what you deal in.
Let's face it, you need to deliver valuable content to your customers, it is critical to fill a need or engage your customers.
This is why videos are far more effective then written text. Most people tend to watch a video easily rather than reading tons of content.
The key aspect to optimizing a website is creating quality content.
Trust me, it is totally worth it. Search engines love the types of websites that have quality and good content that engages customers.
Once your website has the type of content that your visitors love, they will start sharing it on their social media which will eventually lead to more customers and traffic.
It is best to start by simply creating creative and engaging blogs posts and as you grow your following, you can then eventually expand and add additional types of media.
Off-site Optimization
Link building is known as one of the most popular and technical aspect of SEO. The main objective of link building is to get other popular websites have link to yours.
If you want to rank on top of search engines, then it is vital to have links that act like votes indicating that your website deserves to be ranked on popular search engines.
These links will help you rank particularly for those keywords that you have linked for.
Wait, you might have an idea about this. Think of the last time that you were browsing through a website and you clicked on a link that somehow took you entirely to a whole new different site.
That outgoing link is actually a backlink for that new site that you were taken to. And Well most certainly, you can't do off-site optimization without those backlinks.
So how do you get a hold of those links? There are tons of ways to do this. If you have enough knowledge about link building, then you will ultimately be familiar with three kinds of links and the techniques for link building.
Organic Links – These are the best kinds of links that you do not have to take permission for. Most importantly, if you can get those links on high authority websites such as some major news outlet and other popular websites that search engines love.
Whitehat – These kinds of links mainly stand for the good and quality link building, the kind of websites that should be your goal and the ones you should strive to get.
Blackhat – These kind of links stands for those kinds of low quality and spammy link building. The specific ones that you should more likely avoid.
Most websites will struggle and have a hard time to generate enough organic links to rank on top of search engines. That is the reason why link building is such a popular service.
Obviously, you can start to build quality links by performing some of the following activities:
You can try to submit guest blog posts to many popular blogs to those industries that deals in your niche.
Seeking out to popular businesses that are connected and obviously not competitors to see if they will link to you.
It is always beneficial to create local search profiles and social media profiles. It is also important to understand that creating these links do not always mean that you would rank on top of search engines. These links will generate more valuable traffic to your relevant website.
Invest on advertising and submit your website to applicable and authoritative industries.
It is highly important to create the type of content that is link worthy.
Ongoing analytics
Lastly, it is very important to keep track of your SEO progress by Monitoring your results. SEO is not a one-man job.
Once, you have implemented what you have learnt in basic SEO, it takes time and effort to monitor you progress, and the success of all your efforts.
Can you do SEO Yourself?
Now, coming back to the grand question Can I learn and do SEO myself?
If you think you have a strong hold and understand clearly the basics and the fundamentals that we have listed above, then of course yes! You can do SEO yourself. If you have made up your mind that you can easily perform regular updates and update and optimize your content and SEO strategy you certainly can do SEO yourself.
But for majority of the cases, it takes time for SEO to be successful. It can take months. The time it takes to be implemented does not seem realistic.
Entrepreneurs are particularly busy running their business and in their day to day activities. By the end of the day, the last thing they want to concentrate upon is spend time on SEO.
So, it is beneficial for your company to outsource and hire a professional SEO company to take care of your online presence.
When you hand over these responsibilities to trusted professionals, you will observe and analyze that you are getting far better results and in less time comparatively on doing SEO on your own.
Reap the Benefits of Search Engine Optimization with Artimization
If you think that you have gotten a good idea and can easily follow the suggestions that are provided in this post, then you can easily start doing your own SEO with proper guidelines.
Most probably, you will start reaping the benefits and earn more revenue by attracting more qualified visitors to your site.
We have a huge team of experts and qualified SEO professionals that can help you maintain your online presence and provide brand awareness to keep you on top of search engines so that they love you!
When you hand over and rely on experienced professionals regarding these services you will see that you are getting far better results than performing SEO on your own.
Reap the benefits of Search Engine Optimization with Artimization and contact us today for a free consultation!
Farah Khan
Farah is an ambitious content manager and is dedicated in creating, improving and maintaining content to achieve our business goals at Artimization.